A common pool can sometimes prove to be boring and very simple. An above ground pool with a deck is an alternative to the normal pool to enhance the summer experience. It can elevate the visual appeal of the pool area and yard as a whole.
Setting up an above ground pool is a fun idea to relax in the summers with ensured enjoyment. Above ground pool ideas offer the convenience of your own little pool party in the yard and serve a fun, lounging experience.
When it comes to above ground pool ideas, one key element that shouldn't be skipped is a deck. Above ground pool with the deck can make the space, even more, inviting along with the functionalities it offers.
Budget Considerations for Above Ground Pools with Deck
Source: Definebottle.com
Before diving into the above ground pool ideas, there are a few considerations to address that may influence your choice.
Landscaping 
In this context, landscaping refers to more than simply the lovely flowers you put in once your swimming pool is ready to use. 
The excavation of land is covered in this aspect to set up a location to put your pool. This should be a solid length of level land with no tree roots protruding from the ground or rough places that will make your pool uncomfortable to use. The more landscaping you need, the more money your pool renovation will cost.
Size of the Above Ground Pool Deck
After the landscaping aspect, the next consideration is the size of the pool and deck. You need to assess the space requirement. The larger the size of a pool is, the greater will be its cost. Once you select the size, you can compare prices for the different models and make your decision based on that.
Durability 
Year after year, there are a plethora of low-cost above ground pool sets in the market. Unfortunately, those kits aren't built to last, especially in the hands of more active families. They may not even last one season in most situations, while in others, they may need to be changed on a frequent basis—and you may discover yourself coping with maintenance issues on a regular basis.
While different versions of these companies have varying levels of endurance, with correct maintenance and care, they are far more likely to last.
Deck
Above ground pool with a deck offers a great relaxation spot and the deck can prove to be as fun as the pool. A large above ground pool deck can accommodate seating which enables the lounging in the yard.
The key point to keep in mind is that the larger the decking area, the more expensive the total cost will be. A large and simple above ground pool deck can offer a great enjoyable space to do justice to the price.
Material
You must decide whether to use wood, composite wood, or another material for the above ground pool deck. Utilizing wood, however, can prove to be somewhat more pricey since you will need to preserve it with weatherproofing, sealer, and reseal it every few years, as well as repaint or restrict it as the color fades. 
Material plays an important role while setting up the budget for the pool decking.
Safety Elements
Consider safety elements when planning your pool: a surface sensor that will ring if the water's surface is breached, a barrier to keep out anybody who isn't meant to be in the pool, or a pool enclosure to keep nosy bugs out.
A pool cover provides protection from rain, snow, sunlight, dust, leaves, and debris. It also prevents the growth of algae in pools to prevent swimmer's itch.
Make sure you've thought about the safety features you'll employ so you can account for them in your first budget.
10 Best Above Ground Pools with Decks Ideas
Above ground pool deck ideas can prove to be the major cost booster for a swimming pool project. Above ground pools with decks can range in size from just large enough to enter and exit the pool without using a ladder to completely encircle the pool.
Of course, the larger the deck, the prettier and superior the pool project as a whole will be. The choices for an above ground pool deck are endless. 
Here are the 10 best above-ground pools with decks ideas to spruce up the summer relaxation spot in your yard.
Above Ground Pool Deck with Mini-Bar
Source: Definebottle.com
One of the most efficient ways to beat the heat is by soaking in the chilled water of the pool. This feeling can be accelerated with above ground pool ideas featuring a bar on the deck. The deck can be transformed into a mini-bar by placing chairs on it facing the direction of the pool.
Weather-friendly seating along with the drinks can offer a delightful experience while chilling in the summers.
Simple Above Ground Pool Deck
Source: Definebottle.com
If you're looking for ideas to build a simple above ground pool deck without much work, look no further. It is not necessary to have a large space to make it function. Make the most of the space on your lawn by installing a wooden deck.
Wood can be used to wrap the pool walls, which can be used as stairs to the swimming pool and a backrest as well. So, even if your yard is small, you can still create a modest pool with this decking idea.
Rectangular Deck
Source: Definebottle.com
For large lawn spaces, rectangular above ground pools with a deck may be an excellent option. It's a lot easier to build than the other forms. On the other hand, you'll have a lengthier swim course, which is fantastic.
The deck gives a natural touch while also avoiding the slick floor. It also helps with the wooden stairs that keep the floor from becoming slippery. The deck can be enhanced and made more usable by adding chairs for relaxation and sunbath.
Fancy Mediterranean Style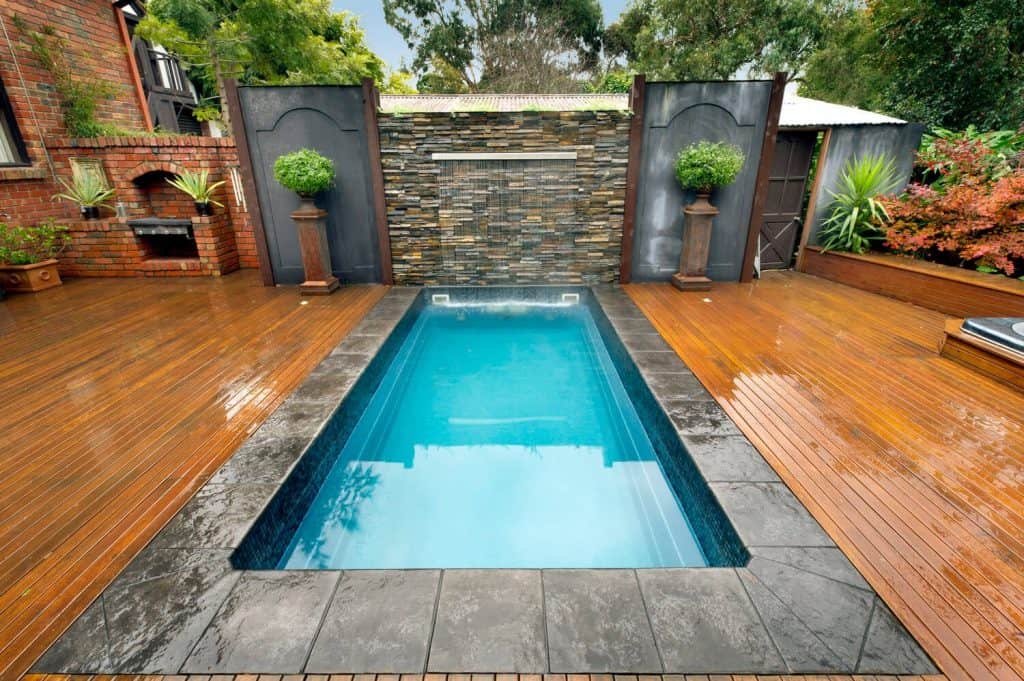 Source: Definebottle.com
Who doesn't spend quality time at the pool on a sweltering summer day?
A swimming pool is a must-have in any home since it is both enjoyable and beneficial to one's health.
Design it in a Mediterranean theme to make it appear posh. Construct a deck and a pergola to provide shade and protection. Then there's the infinity pool, which will make the above ground pool appear even more luxurious. The white pebbles around the pool may be used to beautify the area.
Natural Above Ground Pool Deck Ideas
Source: Definebottle.com
Here's another option of an above ground pool with a deck for people with a little backyard.  You may even make it appear as though you're in a villa.
Consider using a stone wall to create a natural feel that blends in with the swimming pool.
You may use the deck platform to create a seat with a comfortable backrest. On the other hand, you may utilize it as a set of steps leading to the pool.
Deck with Slide
Source: Definebottle.com
If you have enough space for a yard, you may utilize it to create a large party area along with a fun slide outside your home.
Go for the above ground pool ideas along with a deck and a slide to complete the project. Opt for a rectangular pool to achieve a lengthy swimming track.
Many, if not all, of the swimming pool seats, will fit on the large deck. It is vital to put up the fencing as an effective way to prevent individuals from falling from the deck.
Oval Above Ground Pools with Deck
Source: Definebottle.com
Oval above ground pools with deck is a clever way to deal with a little backyard space. It may add an exquisite touch to your garden while also providing a peaceful and refreshing atmosphere.
Consider an above ground pool with a deck to add some life to your backyard. You can place some seats on the deck to get the best of nature and natural views.
Also Read : Floor Tiles for Outdoor Patios: What Are the Best Options?
Breathing Deck
Source: Definebottle.com
One of the advantages of constructing a swimming pool beneath a tree is that it may be the greatest place to enjoy some fresh air on a hot day.
Unfortunately, cleaning the dead leaves from the pool on a regular basis is required to maintain the water clean.
To keep the water clean you can use a robotic cleaner. Here is a list of the best robotic pool cleaners compared. 
The round pool adds a sophisticated touch. Include the outside blue chairs, which go in beautifully with the pool. You may also sit and take in the fresh air.
Put some potted plants on the porch to liven it up. Put the wooden privacy fence for more protection and privacy.
Minimalist Above Ground Pool Deck Ideas
Source: Definebottle.com
To enhance your property, construct a tiny square above ground pool with deck designs. Install the deck that will serve as the pool's stairs.
To provide a lush green accent to the wooden deck, place some potted flowers around the perimeter of the deck. 
Entertainment Hub
Source: Definebottle.com
Consider implementing this concept for your above ground pool with deck. Construct a wooden stairway to the pool, as well as a privacy screen around it. To make your visit easier, set up some outside seats and an umbrella. You will, however, require some water sports equipment.
Summer Necessity: Above Ground Pools with Deck 
Source: Donpedrobrooklyn.com
Above ground pool with deck is the perfect summer idea to cope with the warm sunny days. These ideas will guide you towards making the right choice to jazz up the yard space and for enhanced fun activities.
Source: whitecityrye.com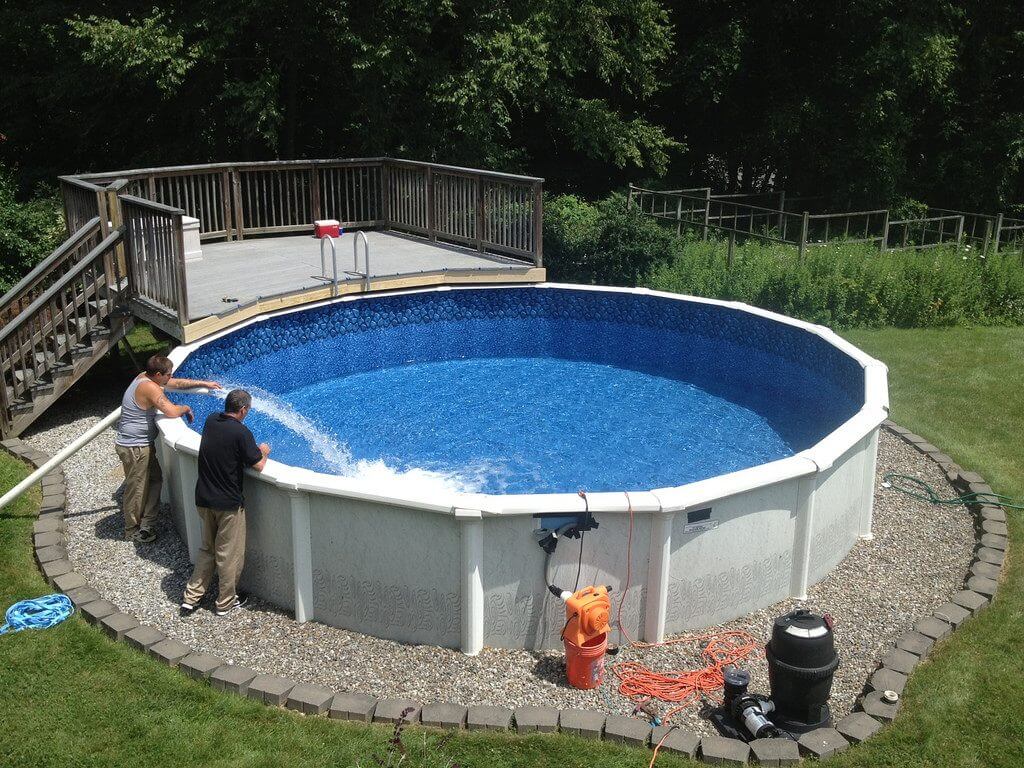 Source: Haikudeck.com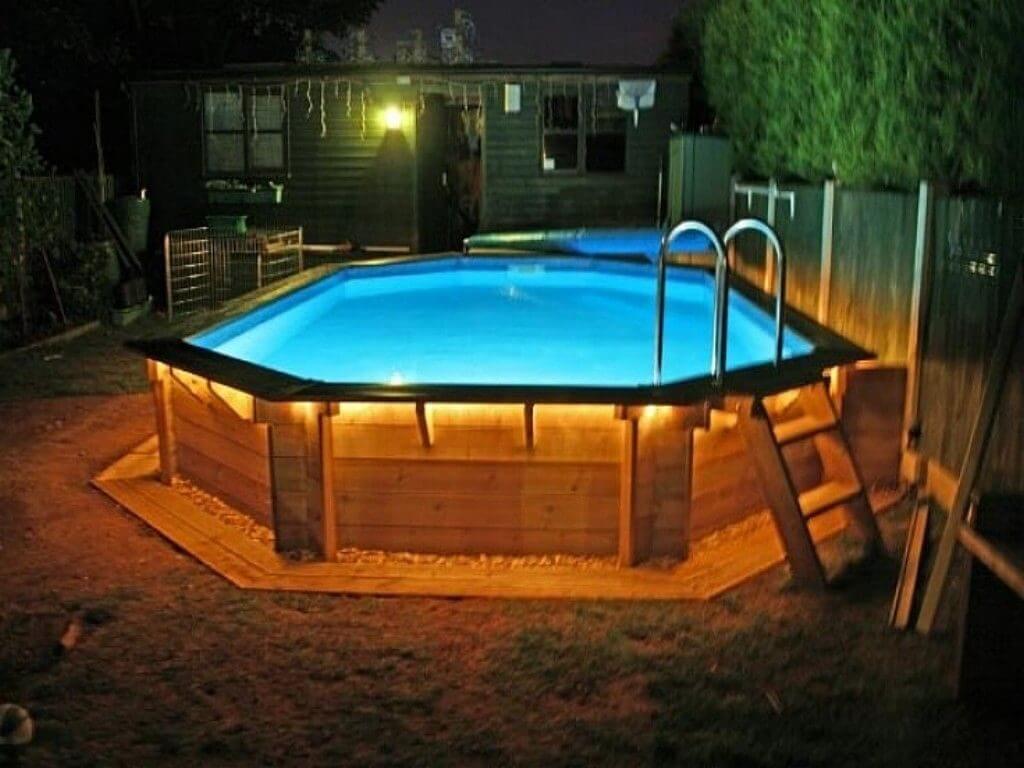 Source: donefest.com
Source: renew4u.com
Source: houzz.co.uk
Source: pinterest.com
Source: pinterest.com
For more architectural guidance and home improvement ideas, keep coming to Interiorcraze.