Lawns or backyards tend to take you on a magical journey with various colours and scents popping in from the main attraction of the yards, i.e the flower bed. Flower beds are designated areas to grow flowers which allow experimenting with gardening skills and exploring the inner creativity to add beautiful colours to the garden. Planned flower bed ideas can elevate the aesthetics of your outdoor space. If you wish to begin growing your own. You can grow many different things in your polytunnel. You can shop now a variety of lawn & garden products like garden beds and polytunnel online at inthemarket.
Flowers symbolize beauty, and adopting good flower bed designs can be rewarding as it adds a level of charm to the whole space. Through this piece, we will take you through some of the best flower bed designs that can help you in accentuating your garden spaces. 
Flower Bed Designs
A flower bed holds a deeper significance apart from serving the purpose of adding to the visual aesthetics. It symbolizes hope, rebirth, and new possibilities as it bursts your garden with colours and life. As exciting as the flower bed ideas may sound, it is a procedure that requires hard work and time investment, but these designs once implemented, will bring joy and pride to your garden.
From simple arrangements to more complex and creative designs, there are endless iterations for the flower beds ideas. Here are a few of the unique and easy flower bed ideas to get you started on creating a bright yard full of life.
Floral River Flower Beds
Source: DreamsTime.com
This gorgeous design mimics river water with flowers. This is an easy flower bed idea that requires a particular species to be planted on the edges of the river, and another one in the path that is defined in between. 
Spilling Flower Pot
Source: Vertebella.com
This is a fun flower bed idea that adds character to the whole garden. In this design, the plateaus are used in an inclined way to make the appearance of flowers being spilt or overflowing. This can look even more appealing by picking contrasting colours for the pot and the flowers.
Unique Planters
Source: DesignIdeasGuide.com
Using unique planters is the most popular concept which is efficient for small or large spaces. Wooden planks can be used to create planters at varying levels and of different sizes. This flower bed idea adds seamless volume and can be filled with a variety of flowers which may be of random colour or coordinated colours.
Blooming Pathway 
Source: DesignIdeasGuide.com
Every garden needs a defined pathway that doesn't have to be boring and generic. An option to liven up the pathway is to sow flowers on both sides of the path with vibrant colours. This will offer a scenic walking experience and will mark the pathway with a floral scent.
Colourful Pattern for Flower Beds
Source: DesignIdeasGuide.com
A garden flourishes more if patterns are introduced, so it is important to choose an eye-catching and striking pattern for your flower bed ideas. The pattern can be in the form of a flower itself or any other creative pattern which will add to the aesthetics of the whole landscaping.
Oval Flower Bed Designs
Source: FlowerPictureGallery.com
A circle is considered a perfect shape, and there is nothing more appealing than an asymmetrical shape to the human eye, that is the reason an oval floral bed in the middle of the lawn looks striking.
Countless variations can be made with a simple oval, one can go for a single colour or mix of more colours or even form a pattern with colours. This simple design allows one to explore their inner creativity and come up with interesting designs.
Flower Bed Designs at Tree Base
Source: DesignIdeasGuide.Com
Another easy flower bed idea is to decorate the base of a tree with pretty flowers and border the same with stones. In the case of a small garden, this is an efficient idea to add style and it adds a statement to the yard. A geometric, round, or abstract border can be created with stones and the inside can be filled with colourful blooms along with a touch of greens and blues to add texture and break the monotony of hot colours.
Hollow Log Plant Bed
Source: Trees.com
This idea creates a unique flower bed carved out of a tree trunk. The size of these flower beds depends on the size of the log that is selected.
This is an easy DIY idea that can be easily executed to achieve good results. Flowers like daisies, daffodils and other bright blooms contrast with green leaves and create a classy flower bed.
Old Tire Bed
Source: Trees.com
Old tires can be used as raised flower beds. This is a charming recycling setup where flowers contrast to the vivid colour of the tire and creates an environment-friendly design that is creative and appealing.
Magical Garden for Flower Beds
Source: DesignIdeasGuide.com
A magical garden thrives well on a big yard which allows experimenting with multi-coloured flowers and patterns to create a large masterpiece. Flowers can be grouped with similar hues and contrasting colours can be placed next to each other. A water feature can be added as per the space availability to create a magical effect with popping colours.
Flower Bed Designs on a Fence
Source: TheUnlikelyHostess.com
Tall flowers with a backdrop of a vertical fence is an amazing flower bed idea A height gradient can be created with taller plants at the back and the shorter ones in the front. Choose flowers that go well with the colour of the fence to create an interesting design.
Clay Pots in Flower Bed
Source: TheUnlikelyHostess.com
Flower pots submerged in a rock garden makes bulbs and perennials bloom easily. Putting flowers in pots allows you to change them as per the seasons
e.g., you can go for lilies and tulips in early spring, summer varieties and mums for the fall season. 
As amusing as this idea seems, the clay pots require extra attention and if the flower bed is oriented in the direction of sunlight, it is prone to dry out and needs to be watered regularly.
Floral Wheel Wagon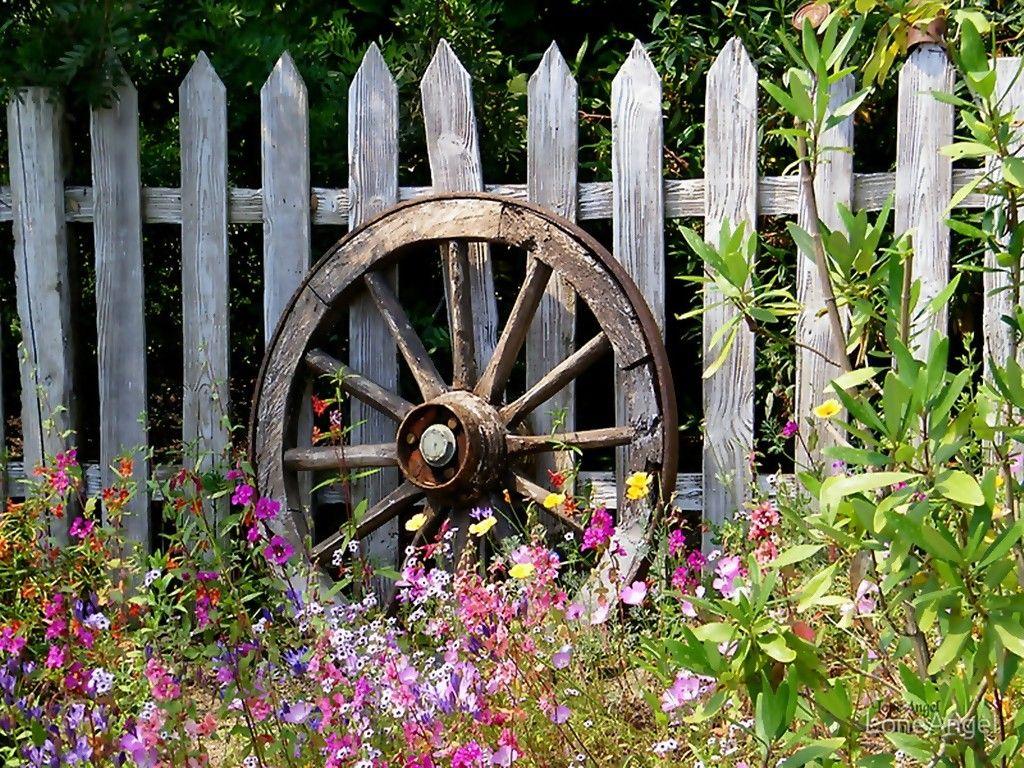 Source: DesignIdeasGuide.com
An abandoned wheel wagon gives you a great opportunity to create a flower bed as landscape decor. This can be used as the central attraction of the garden. 
This mini garden on wheels can be ordered with small flowers or plants. To draw attention and create a unique, interesting element.
Corner Easy Flower Bed Ideas
Source: DesignIdeasGuide.com
A corner designated to the flower bed adds vibrance to the garden. You can play with the height levels and create a mix of low-flying flowers and long stalks. The look can be completed with a creeping vine added to the trellis.
 Long Garden Flower Bed Designs
Source: DesignIdeasGuide.com
There are plenty of options to play with the colour and texture of the flowers.
Instead of going for the bordered and designated areas for flower beds, one can also opt to allow the flowers to create their own boundary.
Bright pink can be used to build the border and contrasting yellows and purples can be merged with the shrubs to create a vibrant effect.
Transforming your Homes with Flower Beds Ideas
Source: JustHomeGardening.com
Landscaping decor comes with a lot of unique styling options. However, it's important to let your inner creativity flow into incorporating various flower bed ideas 
For more architectural guidance and home improvement ideas, keep coming to Interiorcraze.
Source: outlandliving.com
Source: pinterest.com
Source: cleaveland.ru
Source: housedesign.ru
Source: faceboook.com
Source: bonicklandscaping.com
Source: asnka.ru
Source: outlandliving.com
Source:greenbaybotancalgarden.com