As September arrives, it brings in the Halloween hype along with it. Many people across the globe- kids, youngsters, or old, celebrate Halloween eve. Kids wander off for trick or treat to grab candies, and adults organize Halloween theme parties or visit one. To get started with the festive vibes, here are a few Halloween door decorations ideas that will inspire you to leash out your inner creativity.
Whether it's a lavish Halloween party or a small one, we often neglect our doors. Doors are one important element that conveys what can be expected inside. These are the beginning point of any party, hence, door decorating for Halloween is an important aspect.
Strange and Frightening – 12 Halloween Door Decorations
Let's welcome fall and gear up for the Halloween season. It feels like the right time to start planning for Halloween! Because there are so many possibilities, planning and decorations for Halloween is a great deal of fun.
With a sea of options themed spooky, kid-friendly, or artistic Halloween door decorations, let's see the best one in detail.
Hanging a Banner
Source: homebnc.com
One of the most common and easiest Halloween door ideas is to put up a banner on it. It is completely up to you if you want to décor it as per the spookiness or you want to be creative. You can even design in such a way that it gives a glimpse of the nature of the people living inside. The banner can be of a particular size, as well it can cover the complete door, all of your choice!
Escaping Zombies
Source: halloweenmom
Zombies are trending with so many movies, and games based on them. What could be scarier than zombies making their way through the door?
This scary Halloween door decoration idea will make the visitors or passersby think before knocking on the door. This Halloween door decoration reaches a perfect scaring factor and is a creative addition to Halloween.
Blood Message
Source: Organizedmom.com
This Halloween doorway idea fits well for doors with glass. A creepy message can be written on the glass with fake blood. It can be enhanced more with bloody hand impressions on the glass to add the scary effect.
This is the perfect Halloween door idea for theme parties depicting a crime scene.
Entering a Cemetery
Source: pinterest.com
This Halloween door decoration designs an ominous entrance to the interiors. A cemetery archway can be designed using old boxes and black paint. This comparatively simple design can cause a bone-freezing impact as it totally transforms the entrance of the house.
This extremely cheap option for Halloween door decoration sets the chilly vibes.
Mummified Door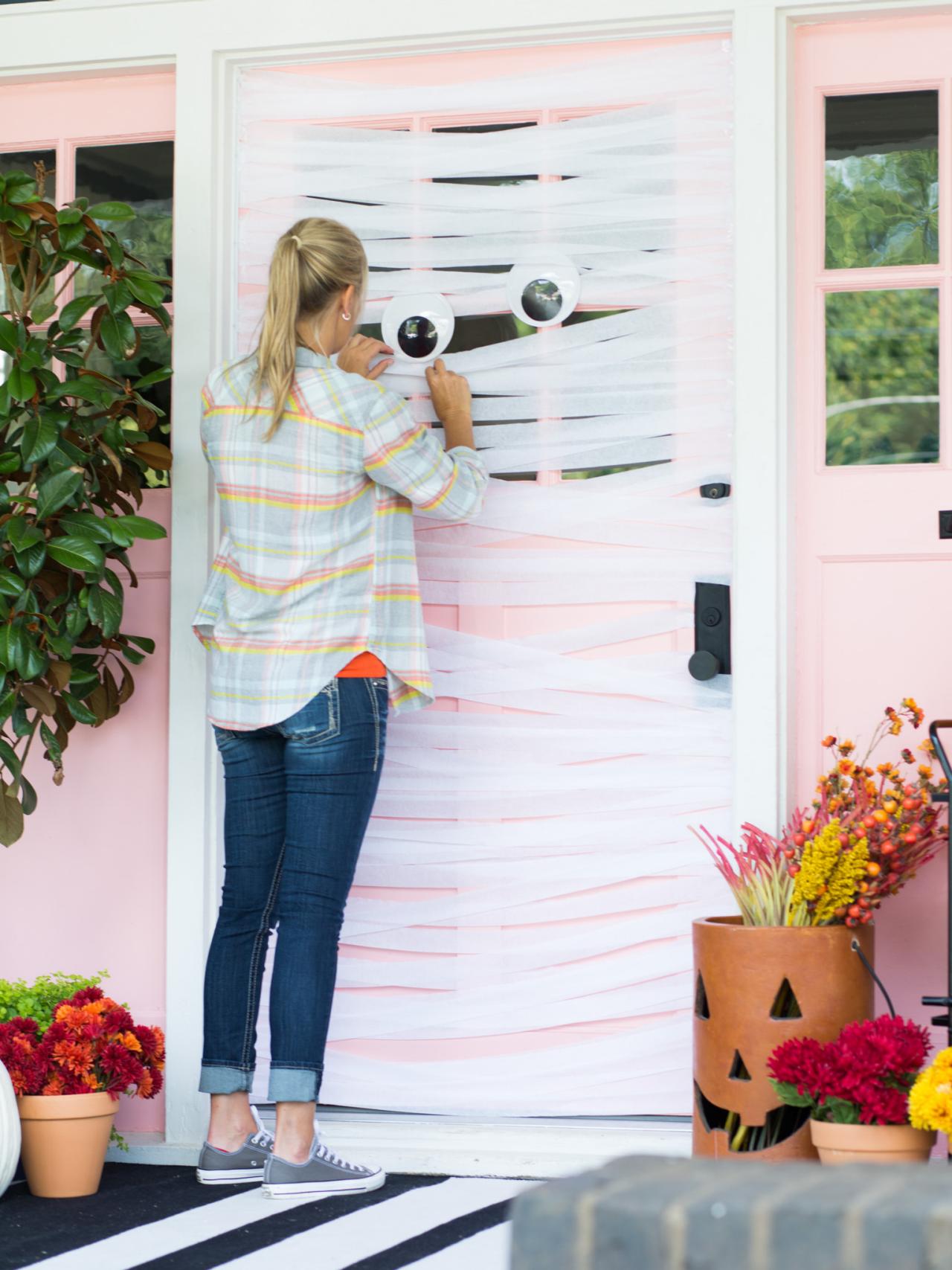 Source: pinimg.com
If you don't feel confident about door decorating for Halloween with posters, different materials, you can go on to create a mummy on the front. Yes, you can use white tape to create the figure of mummy, usage of bandages is also advised. You can use black color to put on the mouth and the eyes. Usage of different papers of different types can also be done to construct the cornea of the eye to make it look more realistic. Make sure you cover everything but not the door as it will make it too spooky for the kids.
Glow It Out!
Source: homecrux.com
This Halloween door decoration idea uses glowing items to set the mood. The opening is decorated with gloomy ornaments that make it look super amazing. Along with it, various types of Light-emitting Devices (LEDs) can be used and adjusted in such a way that the door looks spooky. 
Usage of various candle holders along the wall can also be done to make it look more natural. This way, you can light up the door so that in the evening, you need not worry that your door would not be visible, as the lightning doors and LEDs will do the job for you. 
Entering the Mouth of a Creepy Clown
Source: sonaeuk.com
This is a scary Halloween door decoration that has a prerequisite of immense painting skills. Painting an image of a clown on the door with its mouth open can make the whole scene look scary. Remember, clowns are for fun, but not this one! This clown is one of the creepiest. You can scratch his jaw from the top to the bottom of the door to make it look scarier.
Skull Archway
Source: Organizedmom.com
The main characteristics defining Halloween are ghosts, skeletons, and goblins. One of the creative Halloween door decoration ideas is to set the scene with an archway ornamented with floated skulls and crisscrossed chains.
The archway can be constructed with foam to keep it light. It can be painted to make it appear like a stone.
A Door with Googly Eyes
Source: Goerie.com
This is a kid-friendly Halloween door decoration as kids love googly eyes.
This door, decorated with eyes, is a fun and less scary entrance that will excite the kids. The idea can be kept simple or made as detailed as you want it to be. The door can either be covered with a black sheet or left as it is before ornamenting with eyes. Make your outdoor decorative
Wordings like Boo or Eek can further be added to enhance the whole scene. This can also hold a few silly, funny faces for kids to enjoy.
Create a Tombstone 
Source: madeinaday.com
This is one of the unique Halloween door ideas worth sharing. Here, you can create a simple tombstone with the usage of minimal materials such as chalk and pumpkins. Create a spooky tombstone next to your door or draw one right on it. With this, you will create a spooky atmosphere around your house. 
The spookiness can be controlled with pumpkin heads or by limiting the characters used in the door.
Coffin Entrance
Source: pinimg.com
Nothing is more terrifying than a door dressed like a coffin. It is a nightmare to enter a coffin, and here the level of spookiness reaches a maximum with an entrance decorated with a coffin-like structure.
Imagine kids going for trick or treat through the spooky coffin doorway, creepy isn't it! If you host a Halloween party in your residence, then this type of decoration will add more glory and charm to it.
A Welcoming Witch
Source: HomeBNC.com
Create this unusual Halloween door decoration to welcome guests inside — if they dare. Your inventiveness and originality will delight and frighten small trick-or-treaters. To create volume and thickness to the striped socks, stuff them with paper. Finish with a pair of worn-out heels. Any mat will suffice as long as it is engraved with a loving greeting (it isn't nearly as amusing without it). This amusing Halloween front door decor never goes out of style.
Also read : 19 Outdoor Easter Decorations To Glam Up Your Festivities
Boo! Get Going with the Thrill…
Source: cbc.ca
Source: zoodmall.az
Source: interiorcraze.com
Source: pinterest.com
Source: amazon.co
Source: walmart.com
Source: pinterest.com
These spooky Halloween door ideas can leave anyone stunned and scared.
Whether carving pumpkins, choosing the perfect banner to hang on your mantel, or planning the finest party setting to amaze your kids, Halloween décor is all about enjoying the moment and being creative. There are a plethora of low-cost Halloween decoration ideas available to help you get your house ready for the big day. While you may be focused on the interior of your home, the exterior is essential.
It might be tough to locate Halloween decorations and ensure you have some terrifying fantastic Halloween concepts. Exceptional decorations – even terrifying Halloween decorations – may, on the other hand, be a great joy to produce. It's no surprise that doing Halloween decorations yourself has now become a fun thing to do.
This was all about the Halloween door decoration ideas. We hope that these ideas are spooky enough for you to décor. Door Monster, Web ideas are very creepy as well as can attract many visitors. If the party is held, we are sure that such spooky doors will create the right aura required for the party. We hope that this article has served its purpose and you will decorate your door with these ideas for sure this Halloween!
For more architectural guidance and home improvement ideas, keep coming to Interiorcraze.