2022 is all about going digital and being updated with Instagram-worthy looks for you and your spaces. Interior design trends 2022 are all about being in vogue, choosing from the variety, and staying in style. The emphasis on going naturistic and ensuring a sustainable approach is growing on a macro level but many subtle yet refined themes are also accentuating the trends in 2022. In addition to this, the importance of having a home office and keeping a multi-functional approach has played a substantial role. 
Interior design hugely impacts our lives, from affecting our moods to creating a certain ambiance with the help of natural light. Interior spaces also affect our overall psychology with colors creating a playful spirit, whereas artifacts add a creative aspect to the space. All these factors blend together to form an abode that evokes the senses of the user group. 
While planning a new home or redecorating the old one, we are always caught with what is currently in vogue, we want to accentuate our spaces with styles that resonate with the current era. To help with that, we have curated an engaging list of interior design trends ideas for 2022 which we're sure you'll love. 
2022 Interior Design Trends
Bringing in Nature
Source: Pinterest.com
Nature-inspired design with authentic greenery can go a long way in accentuating your interiors. After the lockdown era, our homes are heading towards a new definition where the outside has to be a vital part of the inside. They also help in purifying the air of the interiors. It also gives you various opportunities in plant parenting in creating an urban jungle with closeness to nature. 
The implementation of this trend is not easy, however, its after-effects will surely elevate the spatial quality of your homes. You can have various plant species like sweetheart plants, fiddle leaf fig trees, monstera, palm, and snake plants indoors. With ample sunlight and watering these natural plants can add value to your spaces while providing several health benefits. 
Multi-functionality 
Source: interiordesignideas.com
Single-use spaces have become a thing in the past, now it's all about making your space multi-use. In a cosmopolitan era, our spatial areas are compromised. In a new age, multi-use has become paramount therefore, using your space in multiple ways is a continual trend in 2022 as well. 
Dwell
Source: Dezeen.com
It is necessary to make the most of every nook and cranny to ensure innovative room tactics for ease in usability. There are multiple ways you can achieve this, by furniture adaptations, storage units, or room divisions. 
Smart Furniture & Technology
Source: thrillinside.com
The word 'smart' has been actively making rounds in the decor space for the past decade. With the advent of technology and various other digital modules, our households are transforming into dynamic spaces. From home automation systems like CCTV cameras, fire detectors, motion detectors to smart lighting systems, these methods have made our daily life easy. 
Source: spirirtinbusiness.com
In the areas of furniture, investing in smart furniture articulated for your custom needs is a trend that is estimated to be continued in 2022 as well. Furniture that allows technology and multifunctionality allow various levels of social gatherings and ease in usability.  Integrated technology also helps in saving a separate space for the same. In micro-apartments, such furniture elements are truly an asset. 
Source: medium.com
Various smart furniture like a center table that also has in-built speakers and controls or remote-controlled shelving with an inbuilt television are making rounds in the trend circle. Other furniture like multi-cornered couches or speakers that are a part of the decor element is also in vogue. 
In Interior Design Trends 2022, Paint It White!
Source: Decoist.com
Many might dismiss white as a dull shade for the interiors that lacks drama, however white has been in the trend since historic times. From the Greeks to the Mughals, the color white in the form of walls, marble finishes, and monoliths has always been state-of-art. 
Source: HouseBeautiful.com 
In this continual quest and adaptability of this color, white walls have established themselves as one of the 2022 interior design trends. Following the alignment of a mid-century modern language, white walls with raw materials can add a sublime charm to your decor. Add some color through paintings, upholstery, and artifacts, this way white can act as a canvas to your precious findings. 
Choose Sustainable and Organic over Mass Production
Source: ArchitecturalDigest.com
Through various local voices and NGOs voicing their opinions against the mass production of craftsmanship elements, many consumers have started opting for local artisanal work instead. Unlike mass production, the artisanal work has a sense of design finesse which adds authenticity to your home. They also provide you with an amplified old-time charm that elevates your design aesthetics by a larger margin. 
Choosing products and practices from organic sources also provides income opportunities to the depleting craftsman community. In times of climate change and conscious architecture, choosing such options is a social responsibility nevertheless. This thoughtful method has now turned into a trend in itself by opting for products procured from sustainable and organic sources. Various NGOs and government authorities have their own certifications that justify a product's authenticity. 
Source: DesignPataki.com
Gone are the days when glass, steel, and mirrors were the highlight. 2022 interior design trends are all about saving the local design finesse and heritage. You can opt for energy-efficient appliances for heating, lighting, and cooling. 
Various materials like reclaimed wood, bio-glass, jute, etc can be used since they have a lesser carbon footprint. Paints that are non-toxic and low-biocide can be opted to safeguard the health of your members. Sustainability was never a short-term approach and therefore, it will always stay in trend. 
Minimalism Shall Prevail…
Right from its advent in the 20s, minimalism has adapted itself to suit every changing trend. 'Less is more is here to stay and for long. 
Source: InteriorDesignIdeas.com
In 2022, space crunch and micro-living will be increasing. Due to this homeowners are seeking spaces that allow free flow and movement in the most simplistic ways. Decluttering also allows calm psychology which is paramount in the homes and a minimal approach provides just that. 
In house interior design trends, minimalism is vastly adopted across the globe due to its ease. Clean spaces with simple lines and sharp accents prevail over their old-time charm. 
Source: DecorAid.com
To create this look, the best approach would be to select what you actually 'need'. You can start by decluttering your storage and other items. This will give you a clear head on choosing limited ornamentation and smart methods. To create visual interest you can experiment with various textures and surfaces. Minimalism does not always mean empty, you can fill it with ample elements while still focusing on elevating the spatial quality through a simplistic approach. 
Going Back in Time with Retro Style
Source: homemy.com
Going back in time is what many homeowners are involved in, be it a retro-themed interior room or an entire house through vintage pieces and pop colors or a vintage couch. However, finding the right pieces to create an authentic theme can be a task.  
Design Wud
If you have any antique stores nearby, you can visit them routinely to keep a check on what is new from the old. You can even use online websites to find vintage pieces that align with your theme. An estate sale or an auction is the best place to get your hands on all things retro at a nominal price. 
Although we are heading towards a new year, many homeowners are keen on retro as their interior design trends due to its classic look and feel. 
When Work Is Home and Vice Versa….
The boundaries between a home and a workspace have been blurring since the lockdown in 2020. Many MNCs, BPOs, etc have shifted into a full-time WFH practice. Some organizations are in the midst of both, whereas some are still calculating their odds. 
Source: Bankrate.com
In times like these, your home needs to have a clear boundary between work and leisure. Having a home office is the perfect idea to orient your homes to fit your office-oriented needs. Choose a quiet place or room which you can convert into a workspace. If having an entire zone within the home for work is not an option, you can opt for make-shift spaces like foldable beds or tables that can be used as your home office. 
Source: Travel+Leisure.com
Add adequate equipment as per your needs along with the storage compartments. Make sure that you're using a soothing color that promotes calm and focus while also keeping you energized. Keep the decor minimal so as to not strike the eye. In 2022, this will be one of the top house interior design trends since it is the need of the hour. 
An Open Plan Never Went Wrong!
Source: Houseplans.com
The work-from-home culture is making people stay at home 24×7, which in turn has both its merits and demerits. Lack of movement can allow several health issues which in turn can affect their overall lifestyle. Therefore, it is necessary to have spaces that allow clean movement and circulation. 
An open plan with lesser barriers is the best way to clear out your spaces. Instead of demarcating a living space, dining, and kitchen interiors with segregations, you can instead merge them as a unit to create open access. Movable partitions and multi-use furniture is the best way to create such spaces. 
Also Read: 20 Tantalizing Mens Bedroom Ideas
Earthy Palette
For the nature lover, this material palette has always been on the charts but even homeowners of different psychology are opting for an earthy palette. 
Source: MosaicsLab.com
It has a mix of materials like terracotta, brick, stone, and many more to allow an outdoor lifestyle while staying indoors. Various stones like marble, limestone, granite, etc are timeless in their durability and finish. Materials like terracotta have a calming effect while also reducing indoor temperatures. Add a few natural greens in the form of indoor plants, hanging or potted plants and you are good to go.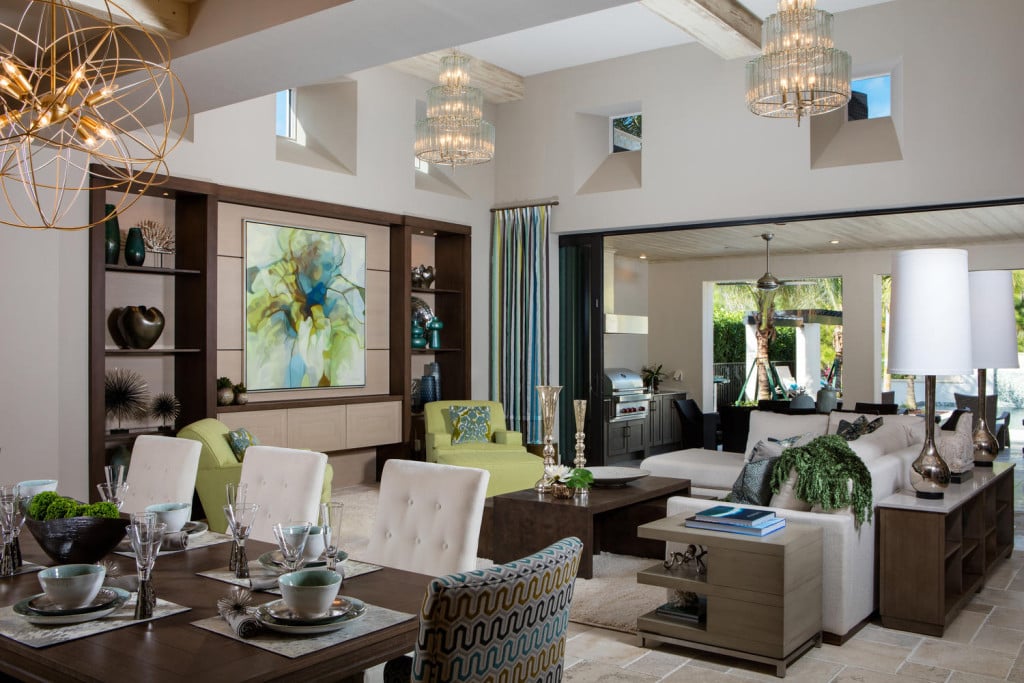 Source: Brabbu.com
This palette is necessarily centric towards healing through nature. In a world after the pandemic, healing and holistic living have become crucial, due to this many homeowners are actively seeking this experience, making the earth palette interior design trend 2022!
What the Pandemic Has Shown Us….
Source: Archdaily.com
Source: thepresidentpostide.com
Source: isuu.com
Source: isaloni.su
Source: interiordesign.net
Source: cutewallpaper.com
Amid a world after the pandemic, many changes have been imprinted for a timeless renewal. This has nurtured a shift in the way we perceive our homes, offices, and even cities. From designing homes that narrate a playful spirit to creating spaces that orient wellness, we have come a long way. 
In 2022 interior design trends, focus is on building wellness as a core factor for individual growth within the boundaries of their homes. This will help us nourish our daily life through dynamic architectural and interior practices with elements where a sense of wellbeing becomes the core focus.
For more interior decoration & designing ideas, keep visiting Interiorcraze.
For daily updates, follow us on our Instagram page Interiorcrazeofficial.